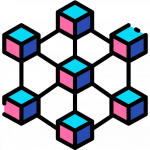 Securing blockchain systems against online frauds, breaches, and other cyber risks and assaults.
Securing IoT systems and protecting them from threats, attacks and breaches.
Automated scans run to detect known dangers / threats in your network and associated devices & In-depth testing to uncover security flaws and assess the strength of a company's security policy.
Keeping software application and data safe and protected from cyber threats, attacks and breaches.
Safeguarding cloud computing infrastructures from both outside and insider cyber threats/attacks. online activities.
Protecting children from unsuitable information, malicious programs or threats, and also monitoring their online activities.
Securing computer networks
data from unwanted access and threats utilizing
both hardware and
software technologies.